Alberta Student Aid - Student Personas & Journey Maps
Alberta Advanced Education | 2018
Alberta Student Aid wanted to get a better understanding of how students experienced the student loan process, from submitting their application, to acceptance and management, to repayment
Project Description
Alberta Student Aid (formerly Alberta Student Finance) asked Trevor and a colleague to help the ministry get a better understanding of the entire process of applying, acceptance, managing and repaying a student loan from the student perspective.
Target Audience
Although the personas and journey maps represent users of the student finance system, the target audience for this work was middle and senior management. The goal was to help this audience understand the perspective of students using the student finance system.
Design Challenges
Over the years, the process of applying for student aid in Alberta had become increasingly complex, requiring students to use several separate applications and processes, with different branding, that did not communicate readily with each other. Students were often confused and reached out regularly to support staff for assistance.
Tools & Deliverables
• User research workshops
• Affinity mapping
• Empathy mapping
• Personas
• Information design
• User journey maps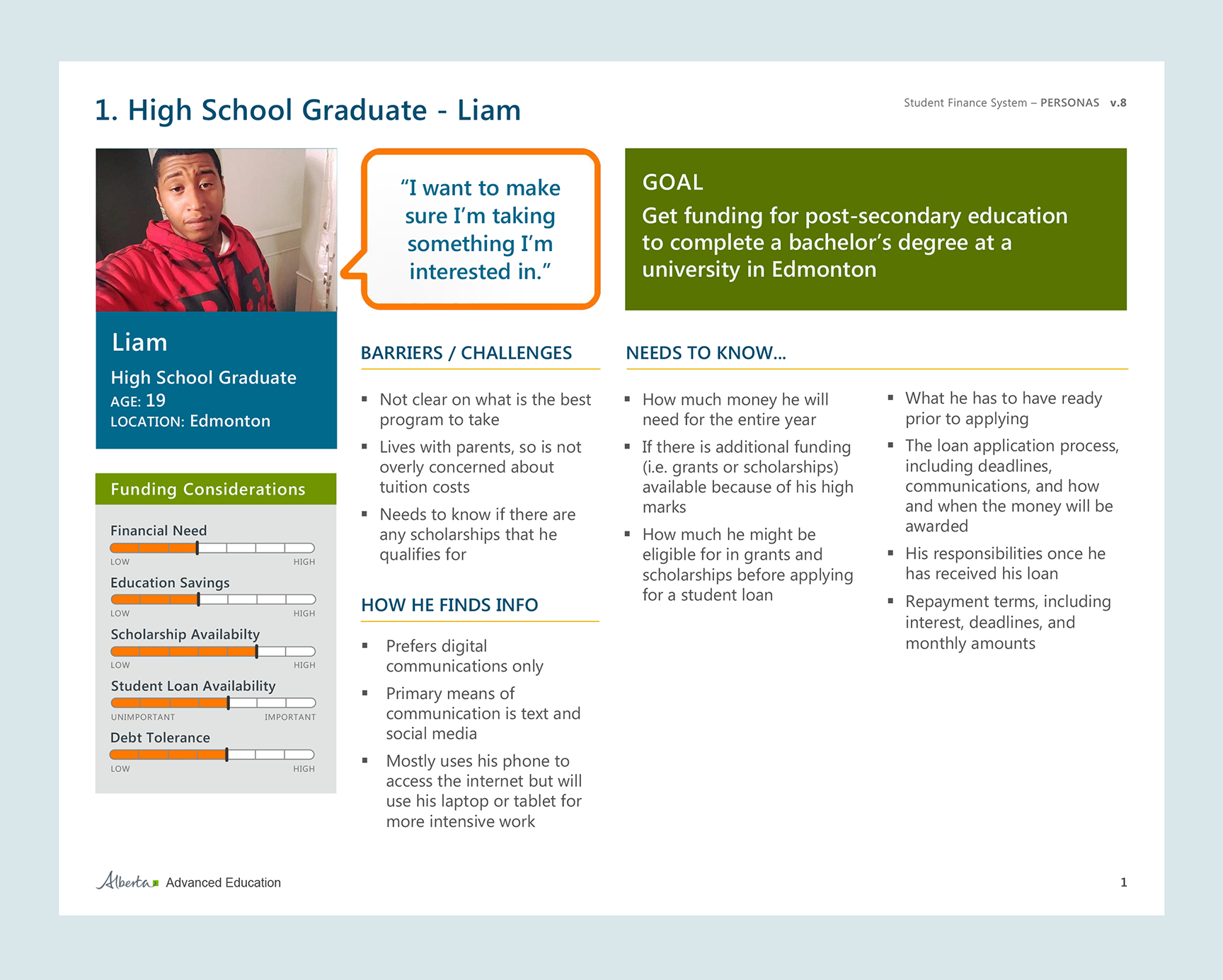 Design Interventions
Working closely with project stakeholders, Trevor and a colleague proposed and implemented a number of design interventions, including:
• collaborating on a service design research workshop for front-line, support staff
• co-facilitating the research workshop and performing data analysis
• documenting the entire student loan application process
• devising 6 personas that captured specific needs for each borrower type
• building 6 current state journey maps (one for each persona)
• designing a streamlined, future state, journey map
Outcomes
After implementing the design interventions, the documents:
• promoted shared understanding of the loan application process among stakeholders
• were used to target further design interventions aimed at simplifying the process
• were circulated among Student Aid staff to promote empathy for students